Community Mediation Service Trainers' Training Program
(Code: ITP07) (6 days: 50 hours)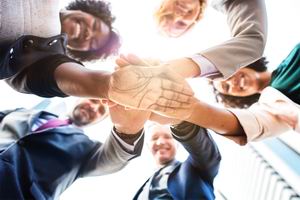 IIAM Community Mediation Service (IIAM CMS) with the motto; "Resolving Conflicts; Promoting Harmony" is a unique system of establishing "Mediation Clinics" designed "for the people; of the people and by the people". The mission of IIAM CMS is to bring justice to the doorsteps of the people. It is meant to provide an opportunity for citizens to participate in the prevention and early intervention of conflicts as an alternative to institutional mechanisms. This will promote peace and harmony in the society and empower the people to deal with conflicts.
IIAM aims in establishing People's Mediation Centres (PMC) in all parts of the country, for the purpose of promoting mediation and empowering people towards sustainable development and creating a harmonious society. PMC's would function with an efficient team of mediators who are selected from the local community itself. The people so selected would be given an orientation program by IIAM, and a certificate of recognition would be issued. IIAM will also implement high standards of ethics. Mediating is a rewarding role to play and it is even more rewarding to train and create mediators, who helps parties to resolve their disputes, whereby they leave with new skills to take to their friends and families to help build a more peaceful future. When the mediator knows he has contributed to the success of the process at each of these levels, the joy of mediating is unquenchable. There is no greater feeling than to see two parties in conflict work through the process. Mediating well is not easy; it is a complex process with many variables. "
Blessed are the peacemakers: for they shall be called the children of God
", the words may not be the same, but a similar philosophy exists in all religions. Reconciliation, love and peace have enormous moral, spiritual and ethical value. Ever thought about entering the field of Mediation as a Mediator and as a Trainer? Are you really good with people, a very good listener and has the ability to converse? You need to be a person with a good repute and integrity with a sense of fairness and above all a passion for conflict resolution and teaching. The Community Mediation Service Trainer's Training Program combines the theory of mediation through highly interactive, skill-based courses in negotiation and mediation and helps you to enhance the understanding and ability to negotiate and resolve conflicts. As per IIAM Mediator Accreditation System, a candidate having successfully completed the CMS Trainer's Training Program is categorised as an IIAM Commercial Mediator and will be eligible for empanelment as IIAM Mediator and also under the Peacegate App as a mediator attached with a Centre or as an online mediator, subject to the norms of empanelment, apart from becoming a Trainer for the Community Mediators. The Mediator can upgrade to various certification levels leading to APCAM Certification through the IIAM Qualifying Assessment Programs (QAP). ♦ This program is normally held only under the PMC scheme held by IIAM. For more details, mail to
training@arbitrationindia.com
Fee:
INR 65,000.00 (Indian participants) | US$ 1070.00 (NRI participants & participants from SAARC Region) | US$ 1200.00 (Foreign participants) + 18% GST
(Fee includes Training material, IIAM Mediation Rules, IIAM Mediators' Professional Code of Conduct and the IIAM Mediators' Conduct Assessment Process, coffee/snacks for breaks and lunch for 5 days.) ♦ Participants are responsible for their own hotel/hostel reservation. In case the participant requires assistance for identifying or booking accommodation, feel free to contact IIAM. ♦ For cancellation and refund policy, please refer the application form.