Education Plus
Kerala
Learn to mediate and resolve disputes
G. KRISHNAKUMAR
Arbitration and dispute resolution offer opportunities for specialisation in the legal field. The Indian Institute of Arbitration and Mediation organises courses in these areas.
- Photo: Shaju John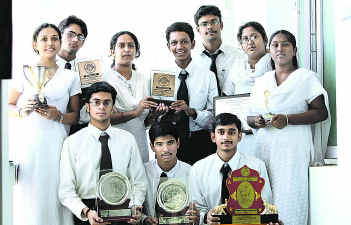 RISING POPULARITY: There is a growing demand for skilled professionals in Alternative Dispute Resolution. Students are keen to pick up arbitration skills, like this batch from Dr. Ambedkar Government Law College in Chennai which recently won the overall championship in all-India IIAM-Hamline Moot on Arbitration 2005.
Alternative dispute resolution (ADR) is fast emerging as an effective method to settle disputes outside a courtroom. Growing acceptance of ADR across the globe has created several opportunities for lawyers skilled in offering an amicable solution to disputes.
Increasing demand for professionals in the field has prompted the Indian Institute of Arbitration and Mediation (IIAM) to come up with academic programmes related to alternative dispute resolution methods such as arbitration and mediation.
IIAM is a registered non-profit organisation headed by an advisory board chaired by M.N. Venkatachaliah, former Chief Justice of India.
The institute is also the first international Associated Member of Civil Mediation Council of United Kingdom, the accrediting body for mediation providers.
Its activities include institutional arbitration and mediation and settlement services.
LLM programme
IIAM has announced its tri-continental LLM programme on ADR for lawyers and law students in 2006.
The programme is being introduced in association with Dispute Resolution Institute (DRI) at Hamline University School of Law (HUSL), United States. DRI offers academic discourse, hands-on stimulation experience and cross-disciplinary examination of ADR themes in domestic study and study abroad courses for law students and lawyers.
With modules offered in three countries (India, the U.K., and the U.S.), IIAM's programme in the emerging field of dispute resolution, offers students the opportunity to obtain a United States LL.M degree, a Diploma in Dispute Resolution and a Certificate in Arbitration, all in a condensed time period. American, European and Indian students will work side-by-side in the classroom in these intensive courses.
Diploma
The Diploma programme in Dispute Resolution offers lawyers and law students an opportunity to study alternative dispute resolution theory, and put that theory into immediate practice in the classroom setting. Training will be given in the basic foundations for effective deal-making in the international community: understanding bargaining style, setting goals in negotiation, using legal and extra-legal standards in negotiation, nurturing relationships critical to negotiation success, and maximising leverage to conclude a deal.
Class sessions will include extensive practice in all aspects of negotiation: preparation, exchanging information, opening offers and making concessions, and closing and gaining commitment. The programme in negotiation will consist of three academic credits.
"The fee for the programme is $4,000 (including tuition and programme fee). Any graduate can apply for the diploma programme," says K.V.Balakrishnan, Director, IIAM.
Experts will give training on the aspect of mediation (three academic credits) during the programme.
Classes will focus on the structure and goals of the mediation process and the skills and techniques mediators use to aid parties in overcoming barriers to dispute resolution.
This course will continue the study of underlying negotiation orientations and strategies, but in the context of how they are confronted and employed by mediators. The diploma programme will be held in Kochi between May 8 and 23.
Certificate programme
Under the Certificate Programme in Global Arbitration Law and Practice, students can study international commercial arbitration in the U.K. between June 19 and July 19. The certificate programme consists of six credits and is done by Hamline University School of Law in cooperation with the School of International Arbitration, Queen Mary University of London.
International lawyers
LLM for International Lawyers will be offered between July 24 and December 20. Students completing the six credits diploma programme and six credits certificate programme can complete the remaining 12 credits of the LLM with a semester in residence at Hamline University School of Law in Saint Paul, Minnesota, the U.S.
More details about the programme can be had from Indian Institute of Arbitration and Mediation, Head Office (Academic Division), Second Floor, PDR Bhavan, Foreshore Road, Kochi - 682 016. Phone: 0484-6570101 / 6570102. www.arbitrationindia.org.
Printer friendly page
Send this article to Friends by E-Mail
---
---