Certificate Course on Arbitration Advocacy & Drafting
(Code: ITP09) (3 months)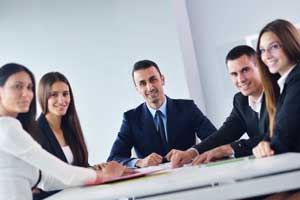 The Certificate Course on Arbitration Advocacy & Drafting (CAAD) is designed to unlock the power of effective advocacy in Arbitration. Arbitration is a dynamic field where effective advocacy can make all the difference. This program will be your gateway to mastering the art of arbitration advocacy, which is designed to provide practical skills and knowledge that can be applied in real life arbitration cases. It is designed to empower legal professionals with the knowledge and skills necessary to excel in arbitration.
This cutting-edge course imparted by a team of experienced instructors and legal experts will help you to master the art of drafting and pleadings in arbitration cases. The course covers everything from the basics to advance strategies in arbitration and gives an interactive learning experience engaging in real-life case studies and practical exercises.
♦ Build Strong Foundations: Gain a deep understanding of arbitration principles and procedures, setting the stage for effective advocacy.
♦ Craft Persuasive Pleadings: Learn to draft compelling statements of claim, responses, and other critical documents, setting the tone for your case.
♦ Master Evidence Presentation: Develop strategies for presenting evidence and arguments that resonate with arbitrators.
♦ Analyze and Strategize: Hone your case analysis skills, enabling you to make informed decisions and execute winning strategies.
♦ Real-Life Insights: Benefit from practical insights and case studies from experienced arbitrators and legal experts.
The CAAD, is a 3 month duration program, which comprises of a full-fledged 40 hours training conducted online. It will comprise of 17 interactive sessions, which will be held on Saturdays and Sundays, allowing you to continue your regular work during the week. Each session will be for 2:00 hours and there will be additional preparatory and doubt clearing sessions. The participant will complete around 7 drafting assignments, each evaluated with personalized feedback and comments to help you refine your skills. The class size is limited to ensure a personalized and effective learning experience. This exclusivity guarantees a higher quality of instruction and interaction.
Eligibility:
Any professionals, like lawyers, general counsels, engineers, company secretaries, chartered accountants, management professionals etc., arbitration enthusiasts, law students, or anyone seeking to enhance their arbitration skills are eligible for enrolment in this program.
Evaluation & Certification:
The participant will undertake certain assignments during the course of the program. They are designed to help the participant to understand the practical aspects of arbitration and learn the art of advocacy and drafting. The participant's attendance and interaction during the program will be assessed, along with the assignments. The participants would be expected to complete all the assignments in a timely manner. On successfully completing the program, the participant will be awarded the certificate.
Application:
Applicants are required to submit the completed application form, tuition fee and all required documents. No final decision about an application can be made until this documentation has been received and inspected to IIAM's satisfaction. For more details, mail to
training@arbitrationindia.com
Fee:
INR 25,000.00 (Indian participants) | US$ 375.00 (NRI participants & participants from SAARC Region) | US$ 420.00 (Foreign participants)
(Fee includes Training material) ♦ Payment may be made in favour of "Indian Institute of Arbitration & Mediation, Delhi". Participants are responsible for a reliable internet connection giving secured connectivity on zoom platform with video access during the training sessions. ♦ For cancellation and refund policy, please refer the application form.